Alex Yusko
Where you grew up…
I was born in Los Angeles, California as my parents were both from the US. I only lived there until I was 3, after which I moved with my family to Dublin, Ireland. I grew up in the Ballsbridge area, so I spent a lot of time in Herbert Park, going to matches at the Aviva, and hanging out with friends at Baggot Street.
How you came to be at St. Conleth's.
I was familiar with St. Conleth's having lived in the surrounding area for years. I knew my classmate from a previous school so when I found out about his positive experience at St. Conleth's and when a place opened in 6th class, I decided to put in an application. I was greeted by Ann Sheppard and Kevin Kelleher during the interview, and I felt right at home as soon as I walked through the doors. Luckily, I received an offer soon after that and I knew the decision to accept it would be an easy one.
Favourite and/or least favourite subject in school.
Personally, my favourite subjects included maths and physics as they were very challenging, and I enjoyed problem solving. Eventually, I decided to enroll in applied maths for the Leaving Cert which I also enjoyed since it was a different application of maths including interesting concepts such as projectiles, inertia, and relative velocity which I quickly learned are relevant in many aspects of how objects work in the real world.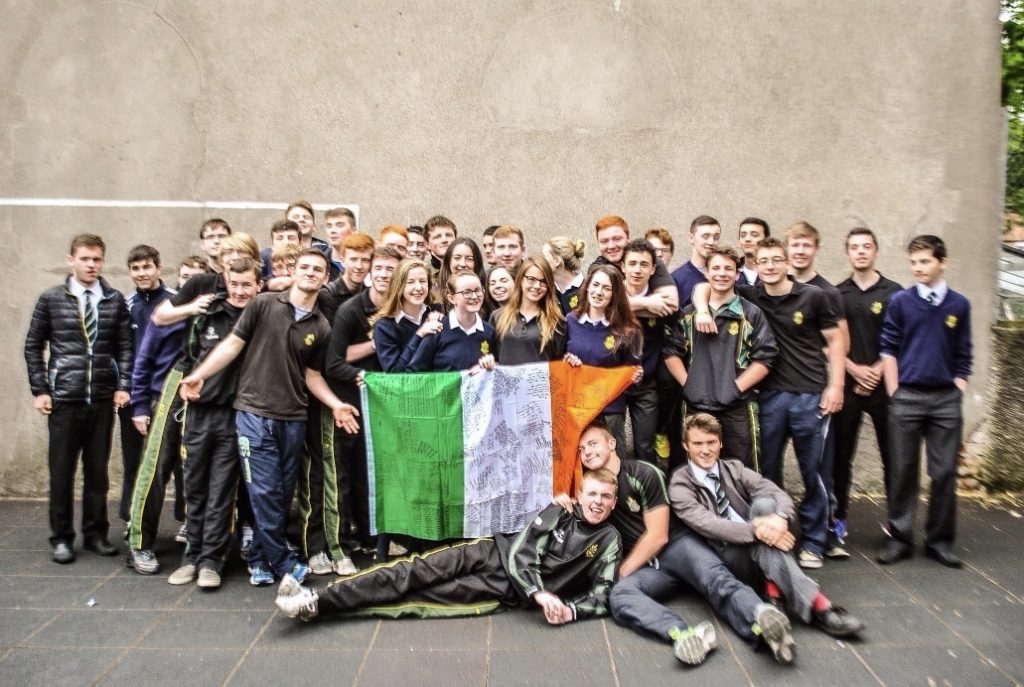 Fondest memory of St. Conleth's.
My fondest memory throughout my 7 years at St. Conleth's was having a very inclusive and supportive environment with both the teachers and the other students there. I always felt like there were many opportunities to get involved in extra-curricular activities such as volunteering during Daffodil Day for the Irish Cancer Society, adventure trips to Ovoca Manor, and going for a hike in Wicklow for the Gaisce Bronze Award in 4th year. I also enjoyed playing tennis, squash, and basketball which I participated in for many years on competitive and recreational teams. I always found that St. Conleth's was a fantastic place to pursue my interests and try new activities as well.
Who/what influenced you to pursue your chosen field.
My form teacher in 6th year told us about the engineering open night at UCD and I decided to attend it that evening. I went to the talk with my dad who studied both electrical engineering and computer science in college. The talk itself discussed the course, modules, and experiences from current students at the time as well as professors who gave insight into the industry and current research within the school of engineering across the different disciplines. Both the talk at UCD and my family inspired me to pursue going into the field and eventually, I decided to choose engineering at UCD as my 1st choice on the CAO application and I accepted the offer later that year.
At what age did you know you wanted to work in your chosen field?
At age 10, I had a trip to the science museum called W5 in Belfast, and I remember being fascinated by new technologies there such as a stringless harp which could be played by not touching the instrument to advanced robotics that could solve Rubik's cubes. When I was around the same age, I attended the Young Scientist Exhibition in the RDS, where I demonstrated an experiment involving a mixture of baking soda and vinegar while attaching a balloon to the top of a water bottle so that it expanded. By participating in both, I realised I was curious and interested about the field of science and engineering.
Tell us about your education/ career path.
At UCD, I started in a common first year where there is an opportunity to experience different engineering disciplines offered as well as ensuring the core subjects of maths, physics, and chemistry are learned. In second year, I chose mechanical engineering as my degree which is a combination of engineering principles and design with materials science. Some topics from my modules included explanations into how external environmental factors influence the power from the engine in a car, and how the density of building materials in a house influence the heat loss through the structure and the subsequent energy usage. I undertook various summer internships throughout the program including at ESB conducting research into future wind farm developments, and at Waterman Moylan where my role as a building engineer involved designing and surveying services into future housing developments across Dublin. I also had the opportunity to study abroad for a year at the University of Connecticut in the US which was an invaluable experience. I graduated with a bachelor's in Engineering Science in 2020 and then stayed on an extra year during the pandemic to pursue my master's in Mechanical Engineering from which I graduated in 2021. I recently began working as a Graduate Mechanical Engineer for a global multidisciplinary design firm called Arup in New York City. My responsibilities in this role include performing mechanical engineering design using 3D modelling software for HVAC systems within a building which are responsible for heating, cooling and ventilation purposes. Since I started, I have been performing this work for data centres and manufacturing plants. Another important aspect of my role is commissioning which involves performing site visits to test mechanical equipment for correct functionality to ensure that the building is as energy efficient as possible. I am fortunate to be involved in carrying out this work for an ongoing airport re-development in New York City valued at 8 billion dollars. In general, I have found myself intrigued with the complexity of engineering applications in the built environment, and Arup has exposed me to many large-scale developments with a focus on sustainability as there becomes an increased demand for building sector decarbonization in the future.
Proudest achievement to date.
My biggest achievement to date is completing my thesis as part of my master's degree. The topic I chose is called Phase Change Material Characterisation for Demand Response in Buildings and it involved running computer simulations to see the effect of offsetting the energy usage in a building by installing thermal storage materials on the interior side of a building envelope so that a HVAC system can utilise off peak energy prices while reducing the impact of demand on the electricity grid during the day. I worked on the thesis for 10 months which involved writing reports, preparing presentations, and defending the research against the school of engineering. I received first-class honours for the thesis from UCD and it was nominated and won the 2021/22 ASHRAE Ireland Student Award which recognises the research contributions made to fields related to the built environment such as HVAC&R, building engineering, energy management, and sustainability. Currently, I am in the process of assisting my thesis supervisor with publishing aspects of my thesis in an international journal paper so that my research can be cited while possibly assisting others with future work related to the field.
Aspirations for the future.
My personal aspirations involve excelling in my career path and earning my professional licence and engineering chartership which is granted based on continuing education credits for attending talks on up-and-coming technologies related to engineering, number of years of experience working in the field, and exams related to a chosen engineering field of expertise. Once I earn this licence, I will be qualified to independently perform extensive engineering design, sign off on drawings, and mentor other engineers on design practices. My aim is that Arup will give me further exposure to state-of-the-art projects from across the world and possibly some travel opportunities to other regions which I have not visited before.
Advice for people wanting to work in your sector/ general advice.
My advice for anyone going into engineering or a career path of their choice would be do not be afraid to pursue what you are interested in and push the boundaries on your capabilities. During my time in engineering, there are many times I was convinced I could not complete a project or submit an assignment due to the complexity of the task, but I learned to work hard, and the results would follow. Also, it is important to ask and accept advice from others as I found that when I needed help, it was always around the corner whether it was from other classmates in school, lecturers in college, colleagues in the workplace, or at home from family.
"And How Marketable is that Degree in Ancient Greek?"
more…